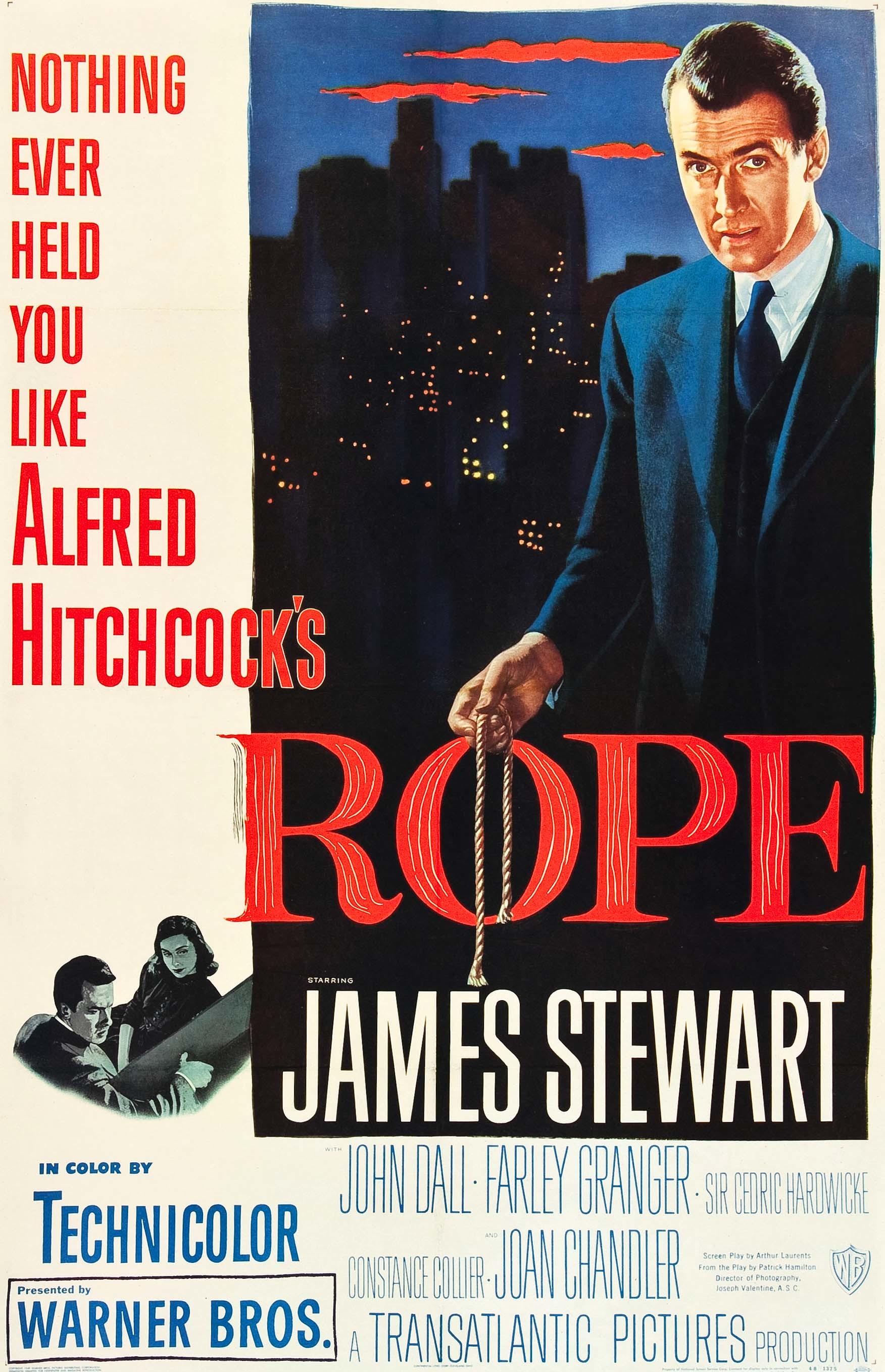 This 1948 Hitchcock film is mostly noted for its technical achievements. Hitchcock filmed this story, about two well-to-do rich kids who decide to commit a murder for the fun of it, as a play. Which, in fact, originally was, though based in London and not New York. Technical limitations did not enable his original vision of making the entire picture one continuous long shot. Instead, it is made up of several 8-minute continuous shots. This was the length of film that fit into one reel. Using some very inventive cutting techniques the film appears as if it was filmed all in one take.
This is more impressive when you see the actual size that color film cameras during this time period. They were absolutely enormous, bigger than a man standing. To move the camera in and around the small stage space, many of the set pieces were set on casters and rolled about to keep out of the way of the camera. Some of the actors were noted saying that they worried every time they sat down, that there might not be a chair for them to fall into. Another achievement of the film is in terms of lighting. The apartment that the entire film is set in has several large windows overlooking the city. As the movie is more or less uninterrupted from start to finish we see the lighting change as the sun begins to set and night falls. It is a testament to this achievement that upon first viewing you don't really notice the effect. Yet, the filmmakers took great pains to get it to look realistic, staging numerous re-stock for the final few scenes.
Though the technical achievements are quite wonderful, it is a shame that they have overshadowed what is really a very good bit of suspense. It seems the two high society murderers have planned a dinner party just after the murder. They store the corpse in a wood box that is featured prominently in the midst of the dinner. This creates an excellent mix of suspense and macabre. Throughout the party, the murderers become more unraveled even as they are enjoying their little game.
All of the acting is quite good. The two murderers (John Dall and Farley Granger) do a fine job of playing intellectual, society playboys, with a desire for excitement. It is slightly annoying watching their excited, nervous mannerisms (especially some stuttering by Jon Dall) but it is fitting with the characters. Their former instructor, Rupert Cadell, is played magnificently by the impeccable James Stewart. This is a bit of a departure from Stewart's typical roles. Here he is a tough, cynical intellectual. This was the first of four collaborations between Stewart and Hitchock and it is hard to imagine his role as Scottie in Vertigo without this movie.
The story unravels in typical Hitchock fashion. The suspense is built, then lessened by some well-timed comedy, and then built again to a final crescendo. Hitchcock was excellent as a technical director and allowed his actors the breathing room they needed for fine performances. In the end, I left the picture feeling more excited about the superb storytelling than any particular technical achievement. It is a testament to his craft, that Hitchock allows you to leave a picture being enamored with his story over his technical achievements. Some of the greatest effects are those you don't notice because they seem so natural and real.
Alfred Hitchock manages a triumph of technical brilliance and suspense in Rope. Its influence in the technical realm of cinema far outshines any effect the story has on future movies. This is a shame, for the story being told is one of suspense, macabre, and excitement.