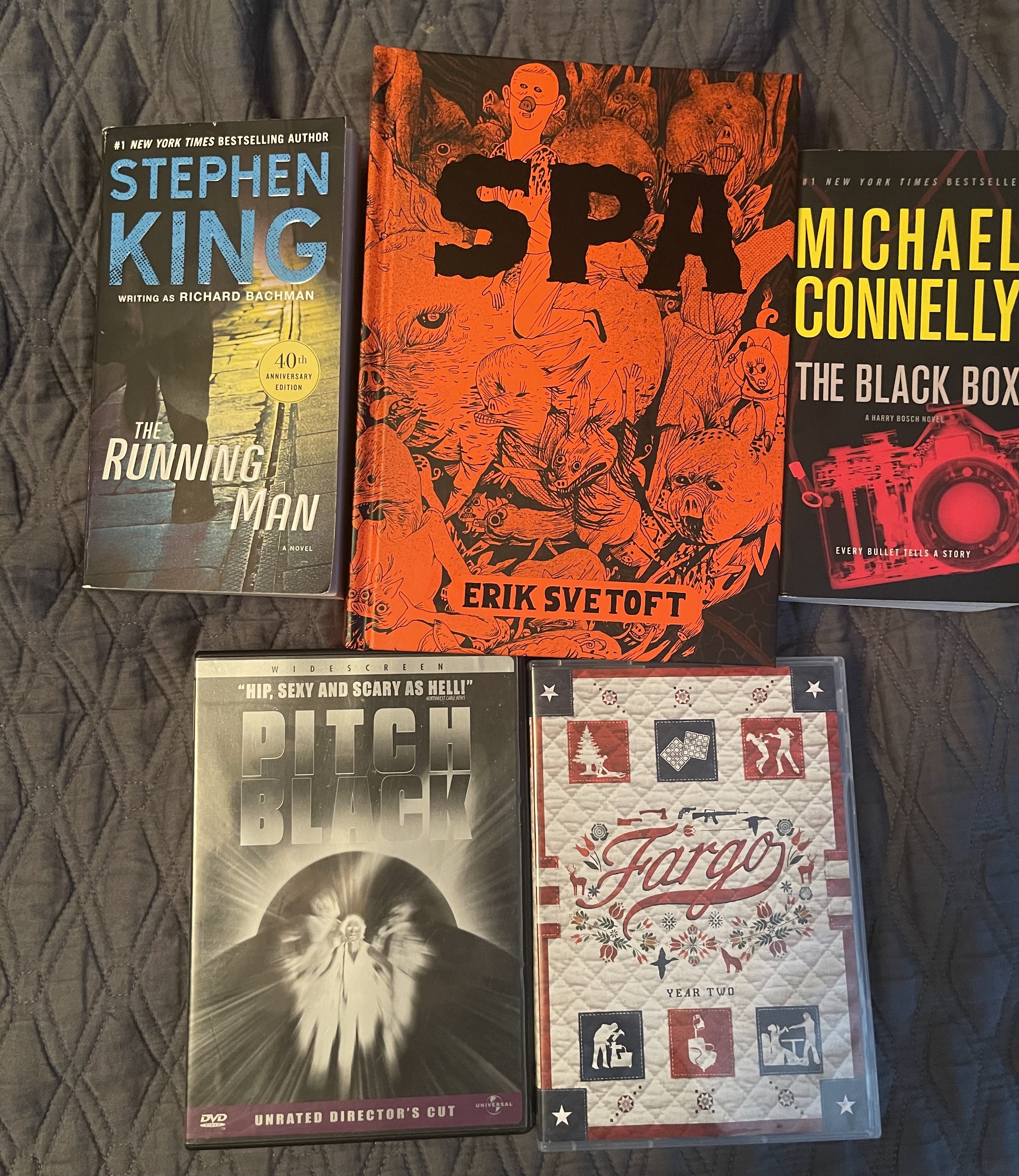 My daughter has outgrown dolls. My wife, however, has grown into them. She learned to sew probably 15 years ago. She used to make herself various outfits, but once my daughter was born she began exclusively making her dresses. But my daughter no longer likes dresses (she prefers black pants and hoodies now) and so my wife has started making clothes for the dolls. She's really gotten into it and even has an Instagram account for it (and she would be thrilled with more followers if you are into that sort of thing) She does a great job, even if I find the whole grownups play with dolls thing a little bit strange.
Anyway, there is a little toy shop that she likes to go to for bargains on Barbies and accessories. She wanted to go today and we made a family outing of it. They have other collectibles and other random stuff. I found a copy of Pitch Black and Fargo Season 2. Pitch Black is a surprisingly good little sci-fi/horror film that briefly made me think Vin Diesel was a good actor. Fargo is a terrific television show based on the wonderful Coen Brothers movie of the same name. Or at least the first two seasons are excellent, I still haven't seen past that.
Afterward, we dropped by a Goodwill and I picked up The Black Box and The Running Man. I recently watched Bosch, the TV series, and quite liked it so I've been reading the Michael Connely books the series was based on. I've only read a couple of them but I've enjoyed what I've read. I've only been into Stephe King for a few years now but I am steadily working my way through them and I always buy the ones I don't have at any used store we visit.
Spa is a comic book that I'll be reviewing soon. It is utterly bizarre and it doesn't make much logical sense, but the artwork is really interesting (and bizarre and horrifying).
Have you all picked up anything interesting lately?